Welcome to The Cat Hotel
My name is Halimah Ben Neria, I am the owner and sole care provider of the boarding house. Ever since I remember, I have been taking care of animals. I specialise in taking care of cats. I have years of experience in raising and caring for cats from kitten to old age.
Surrounded by greenery, my intimate The Cat Hotel is located in the countryside of the Emek HaEla region, in the village of Avi'ezer. The yards are spacious and the rooms are big. my guests are ONLY cats and we have fun here together.
My daily routine is such: Several times a day I go in to the yard and check on the well-being of the cats. I sit right next to the cat to observe him/her, learn it's nature, pet it and give a daily dose of attention and brush his/her fur if they seem interested. In the yards there are toys and high ledges that the cats like to sit and observe the view. In the cats sleeping chambers, there are pillows and blankets that get changed often and every time a new guest arrive. The drinking water and cat litter are changed daily. The cats have dry food available at all times and I also give them wet food for breakfast if the cat owner so desires.
The Boarding House also take in cats who suffer from a chronic illness, which may require IV, shots and/or medications. I also take in cats after being hospitalised that need further care and close supervision. My veterinarian lives next door and can quickly respond to any problem that may arise.
It is recommended that you bring along a blanket, pillow or any other toy that the cat is used to in order to make adjusting to the new environment easier. Every cat has a different adjustment period. To some it may be minutes, to others it may take a couple of days. At the end of this time most cats become my friends and are relaxed and curious like cats usually are.
Typically every cat has his/her own room or yard. However during Holidays and school vacations there naturally is a higher demand for my services. During these times I may place two cats in a yard/room but only if they get along with one another perfectly. Since the boarding House is inside my home and garden, I am highly attentive to any noise during all times of the day/night. I can tell whenever there's poor chemistry between two guests who share a room.
Because the cats are not in their normal environment, their need to defend their territory is diminished. They are far more tolerant of other cats, who just like them, are also in a new environment. There is more "mutual respect" so to speak.
The Cat Hotel also serves as a Cat Retirement Home. Cats can come to spend the remainder of their lives with dignity while receiving devoted care and human contact. There are reduced rates for two cats or more, or for cats who stay for a long period. The price is calculated on a daily basis.
It is possible to drop off or pick up your cat at any time by setting a time in advance, however, picking up a cat after 11:00 PM will count as an additional day.
You may visit your cat at any time. I will also send you photos of your cat that you could have a peaceful mind.
Every cat that stays in the Boarding House must be spaded/neutered and be treated for flees and worms. You may also arrange for the cat to be picked up and/or dropped off at your home for an additional charge.
The Cat Hotel is an outstanding Cat Boarding House. Your peace of mind is as important to me as well as your cat's happiness. Making sure that your cat receives the best care and living conditions is very important to me. I am happy to be at your service and to make sure that your cat will have the best possible time when he/she is away from you, because they deserve it.
You are invited to read my client's reviews below.
The Cat Hotel – An Outstanding Cat Boarding House. I will be happy to talk, advise, and answer any question you might have at: Office: +972-2-9917793 Mobile: +972-54-7828140
✽ ✽ ✽ Recommendations ✽ ✽ ✽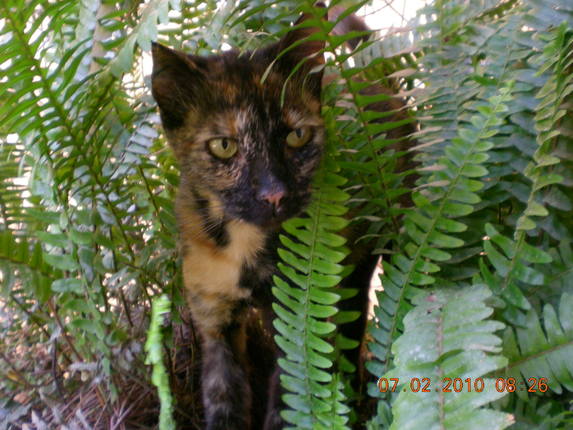 Enthusiastic recommendation.
If a cat could design a pension, it would be just like Halima's. My cat had never been away from her own territory until staying there and when I returned for her, she was quite content to stay right where she was! Halima's energy and attention to detail make this the perfect cat hotel. My cat and I give it 5 stars
Lesly Black 05/09/2016
✽ ✽ ✽
Our 7 month old cat Luke stayed at Halimah's cat hotel for 3 weeks whilst we went on holiday and for another extra 2 weeks after that. Our Luke could not have been in better hands than Halimah's. She sent me photos, videos and regular updates on his well-being. He seemed happy and content in her care. I highly recommend her for anybody's beloved kitty should you need to leave them in somebodies care. It is a true vacation for them with lots of love and cuddles.
Shani Ben Tzion, 2016
✽ ✽ ✽
I first heard about Halimah and Hotel Hatul from my cat's vet Dr. Sapir in Jerusalem. Every year we travel to my husband's home in Ireland so I wanted to find a safe and loving place to keep our 18 year old cat Whiskers while we are away. Hotel Hatul was the answer to my prayers. Halimah sent us photos and updates regularly while we were away.
One day she noticed that Whiskers was not feeling well and asked our permission to take him to the vet. Tests were done and the vet discovered that Whiskers has a serious kidney problem. He was immediately put on a special diet and given an infusion. Halimah literally saved my cat's life. We have left Whiskers at Hotel Hatul several times since then. He continues to get excellent care while he is there and Halimah is always very attentive to his needs. She is very experienced and professional.
I am so grateful to Halima and her Hotel Hatul for always taking such good care of our elderly cat Whiskers. I highly recommend her.
Karen Levers, Jerusalem 2016
✽ ✽ ✽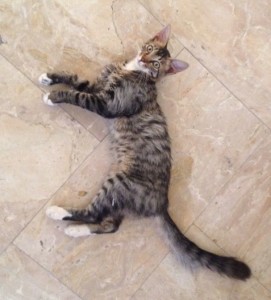 We had to leave Israel quite on short because of a family emergency and were desperate for someone to look after our little kitten Oscar, which was only 4 months old at the time, very attached to us and not used to other cats yet.
Our Veterinarian told us about the Cat Hotel and said it's the nicest place for cats in Israel. She was absolutely right! It's a magic place like out of a children's book, we were grateful to receive updates and pictures from Halimah and we could always phone to check up.
Halimah really understands cats, pays a lot of attention to them, interacts, is tender and very sensitive to their personality – we couldn't imagine a better place and we would always bring Oscar back to Halimah. We absolutely trust in her and even though the Cat Hotel is quite a way for us, we wouldn't want to leave Oscar anywhere else.

When Oscar came back after our return (which Halimah very kindly arranged with her son), he was calm, healthy and had grown a lot – clearly he had a wonderful "holiday" at the Cat Hotel.
We thank Halimah very much for her help, patience and loving care, which put our minds at ease!
Jonathan & Nadja, Caesarea, September 2016
✽ ✽ ✽
Halimah came highly recommended to us and yet, we loved our beautiful cat so much we were initially anxious…
Looking back, we couldn't have made a better choice and are now filled with nothing but utmost gratitude!!
Halimah took our cat for 6 months! But before she did she helped relentlessly with countless advises, suggestions and constructive instructions on all that needed to happen before we departed to NZ. We needed every bit of guidance and she offered it with zeal! Halimah was extraordinary to work with! Very quickly, her love, expertise and utter dedication meant our beloved cat was safe and very happy.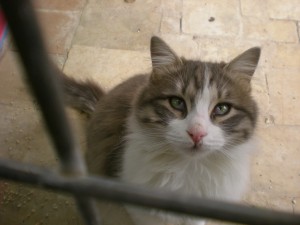 Halimah not only cared for the emotional and physical health of our cat, she made sure she liaised with external parties, in her own time, to ensure that Mushi arrives well and without delay to NZ. She was available to us at all times and updated us with stories and videos throughout.Mushi came to us
still a baby (1 year old)! His behaviour, health, attitude and the way he responds to us and other people, shows us every day that he has been loved and cared for brilliantly on the last 6 months. He is a robust, confident and well adjusted cat and we owe this to Halimah. Thank you Halimah for all you did for us! Your professionalism, love and care are remarkable. Mushi and we will miss you!!

Mushi, Jamie, Alia and Jackson. June, 2016 New Zealand.
✽ ✽ ✽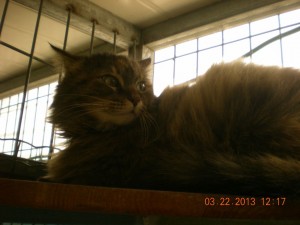 Hi Halima

I wanted to say a special thanks to you for taking care of my baby Pookie
Bear while I was away. Also another special thanks for the pictures and the updates you always sent to me, as well as for allowing me to see her and pick her up even if I came by late from the Airport. It was all especially highly appreciated.I felt comfortable leaving her in your care as I noticed how much you like cats as much as I do, so once again many thanks,

Sincerely Tracey & Pookie, April 2015
✽ ✽ ✽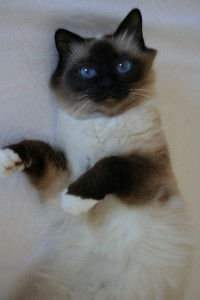 Our two beloved Birman cats, (actually our kitty children) Oscar, left and Cleo, right stayed with Halimah in her cat hotel, Hotel Hatul for 3 months recently whilst we went on holiday overseas.

They are very spoiled and used to a lot of attention from us, so leaving them behind for a long period of time was not an easy decision. We found Halimah's place on the internet.
On the first day after arriving to our destination there was an e-mail from Halimah with pictures of the cats. That really helped us to relax and we knew they were in good hands
Just before we returned home Halimah phoned us and told us that Cleo was not feeling well and that the Veterinarian, Dr Yaron examined her and took her to hospital. She was very sick and after lots of tests he discovered that she had leukemia. We were not even aware of this.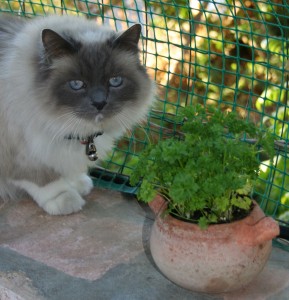 Needless to say we were very upset and heartbroken but through this whole difficult time Halimah kept us posted on her progress via Skype and e-mails. This really meant so much to us. Sadly Cleo passed away but we know she was in good hands, very well cared for and looked after. It breaks my heart that I was not there, since she was my little shadow, but unfortunately this was beyond our control. Surely she is happy in kitty heaven.
Oscar came home alone, happy and normal. Halimah, we want to thank you for all your kindness, love to the cats and efforts during their stay at your kitty hotel. We really appreciate everything you have done for them.
We will definitely leave Oscar with you again.
Warm regards, Gina & Nico, Jerusalem 19/12/2015
✽ ✽ ✽
Do you know the TV program "The Dog's whisperer"?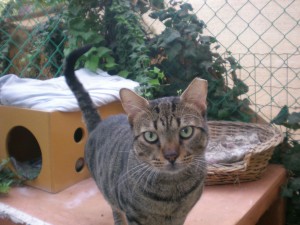 In fact Halimah is really "The cat's whisperer"!

Her place is wonderful for many reasons.
Firstly one really can trust Halimah because she indeed knows cat's way of life and their behaviour.

Secondly her home is a real paradise for cats!
I brought to her my cat many times when I was abroad and I am very satisfied; I did not recognise my cat!! He changed in a very positive way!

I found my cat in the street when he was already one year old and sometimes he was aggressive and didn't let me touch him.
When I brought him back from Halimah I was very surprised because he looked like a different cat : he was very nice and I could stroke him without any problem. He was back to me very balanced.
So I really recommended this place. In fact you can be very quiet when you leave your cat in this "cat hotel".
Nathalie, Ashdod, 2015
✽ ✽ ✽
Dear Sir or Madam, Shalom.
I write to you today to talk a little bit about Halimah's Pension for Spoiled Cats.

I have left my two wonderful cats with Halimah on two or three occasions and was extremely pleased with the care that they received and the attention given to them as well.
The Pension is indeed located on a beautiful Moshav and the cats have a large private room, with a secure balcony for them to go inside or outside as they prefer. My cats are indoors only, so this was a nice opportunity for them to enjoy the natural world outside and to smell plants, watch birds and enjoy life.
The cats are fed regularly and it is recommended that you leave their favourite toys, food, flea control and beds for Halimah to give them. The most important thing for me was that I was able to leave my two cats – who I love very much – with Halimah and to know that they will be taken care of properly and that a vet is available to attend to any unforeseen issues.

Thank you for taking the time to read this short letter and I HIGHLY suggest placing your cat(s) with Halimah at her Pension.
Gregg, 2015
✽ ✽ ✽
I sent my two spoilt cats to the Cat Hotel in Avi'ezer and was so pleased with the treatment that they received. The facilities are really good and Halima who is a "cat person" really understands their needs and it was a positive experience for them both. They returned home without any traumas and had even put on a little weight, no fleas or worms, which is unusual after kenneling animals !
I would whole heartily recommend this place and would send them again at any time.
Alice Hahn, David Avidan 20, Tel Aviv 69086, 16/10/2014
✽ ✽ ✽